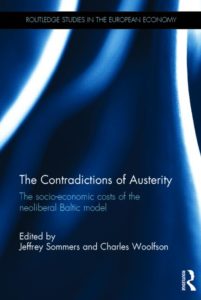 I den nye boken «The Contradictions of Austerity» viser økonomene Erik S. Reinert og Rainer Kattel hvorfor det er så viktig å holde lønningene oppe også i økonomiske krisetider.
Ny bok: The Contradictions of Austerity: The Socio-economic Costs of the Neoliberal Baltic Model. Jeffrey Sommers og Charles Wolfson (red). Forord av James Galbraith. (Routledge)
Seniorrådgiver i Res Publica Erik S. Reinert har et kapittel i boken i samarbeid med Rainer Kattel. Reiner og Kattel viser hvorfor det er så viktig å opprettholde lønnsnivået selv i økonomiske krisetider.
I forsøkene på å løse finanskrisa har mange tatt til orde for å senke lønningene, dette er også gjennomført i praktisk politikk med alvorlige konsekvenser, påviser Reinert og Kattel i denne boka.
En lengre versjon av Reinert og Kattels kapittel kan lastes ned her.
Sagt om boka:
Mark Blyth: Sommers and Woolfson (and their colleagues) have provided us with the definitive correction of record.
Alfredo Saad Filho: This book carries a warning and an alternative, and it should be read by everyone with an interest in the future of Europe.
Noam Chomsky: This book promises to become the defining study on the impact of austerity in the Baltics, otherwise known as the 'Baltic miracle.'
Alexander Cockburn: The Contradictions of Austerity promises to be a hugely important contribution in the current debate over the future of Europe.
James Galbraith in his Forward: This is a book by scholars of great integrity and independence, who have spent years on the ground in the Baltics or close by.
Yanis Varoufakis: By deconstructing the «official version» of austerity's effects on the Baltics, this book contributes greatly to those who care for Europe and for the truth.